The James Webb Space Telescope has captured stunning new images of the Ring Nebula.
The images were released Thursday by an international team of astronomers, including three from the Canadian Western University's Institute for Earth and Space Exploration. 
The snapshots show the planetary nebula in the constellation Lyra in unprecedented detail.
In addition to the main ring, halo and the interior filled with hot gas, the star that ejected the material is visible at the center. 
WEBB SPACE TELESCOPE IMAGES REVEAL METALLICITY IN DISTANT GALAXY
The nebula was ejected only about 4,000 years ago, researchers say. 
"The James Webb Space Telescope has provided us with an extraordinary view of the Ring Nebula that we've never seen before. The high-resolution images not only showcase the intricate details of the nebula's expanding shell but also reveal the inner region around the central white dwarf in exquisite clarity," Mike Barlow, a University College London physics and astronomy emeritus professor and co-lead scientist of the JWST Ring Nebula Imaging Project, said in a statement.
Barlow said astronomers can use the Ring Nebula to study how planetary nebulae form and evolve.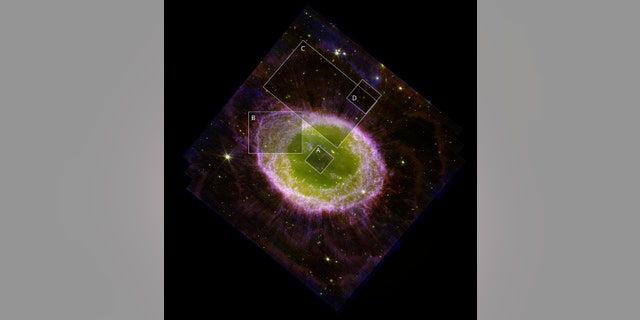 WEBB SPACE TELESCOPE TAKES STUNNINGLY DETAILED INFRARED IMAGE OF ACTIVELY FORMING STARS
"We are witnessing the final chapters of a star's life, a preview of the sun's distant future so to speak, and JWST's observations have opened a new window into understanding these awe-inspiring cosmic events," he said. 
Located approximately 2,600 light-years from Earth, the nebula was born from a dying star that expelled its outer layers into space.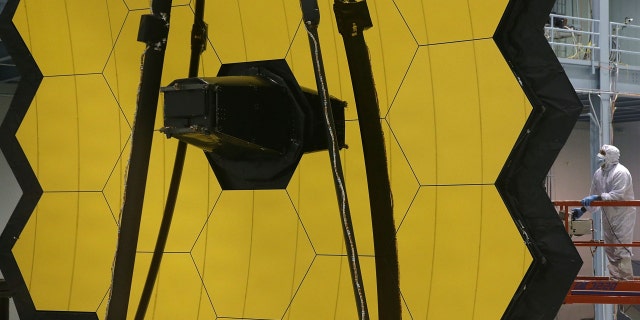 Western University notes that the variety of shapes and patterns for nebulae is due to the "complex interplay of physical processes not well understood yet."
CLICK HERE TO GET THE FOX NEWS APP 
Radiation from the center star lights up these layers, and chemical elements in the nebula emit light of specific colors, allowing researchers to study the objects' chemical evolution.
"These images hold more than just aesthetic appeal; they provide a wealth of scientific insights into the processes of stellar evolution. By studying the Ring Nebula with JWST, we hope to gain a deeper understanding of the life cycles of stars and the elements they release into the cosmos," Nick Cox, an ACRI-ST member and co-lead scientist of the JWST Ring Nebula Imaging Project, said.