Drone delivery is the way of the future, revolutionizing the speed and convenience of getting products and food right to your doorstep. Just ask Paul and Susie Sensmeier who've already used it over 1,200 times. 
CLICK TO GET KURT'S FREE CYBERGUY NEWSLETTER WITH SECURITY ALERTS, QUICK TIPS, TECH REVIEWS AND EASY HOW-TO'S TO MAKE YOU SMARTER 
They are early adopters of Wing's drone delivery service. The married couple from Virginia in their 80s have been using the drone delivery service since 2019, and now it's the only way they want to shop. 
The Sensmeiers put down their ordering app long enough to chat and let me tell you, they're a breath of fresh air.  We talked about why they love drone deliveries, how it's helped them, and why others may soon fall in love when it's widely available in the U.S. 
What is Wing drone delivery, and how does it work? 
Wing is a drone delivery service that currently operates in select parts of the U.S., Europe, and Australia. It delivers small packages in minutes and is a subsidiary of Alphabet, the parent company of Google. The company was founded in 2012 and has made over 300,000 commercial drone deliveries worldwide, not including the numerous test deliveries it is continuing to make in other areas. 
MORE: HOW DRONES ARE REVOLUTIONIZING DELIVERY BY TAKING TO THE SKIES  
The way Wing's drone delivery works is first by placing your delivery order on the Wing drone delivery app, which is available for both iPhones and Androids. Once you've placed your order, Wing will automatically plan a safe route from its nearest facility to the pickup and delivery locations, taking various factors into account, including weather and obstacles.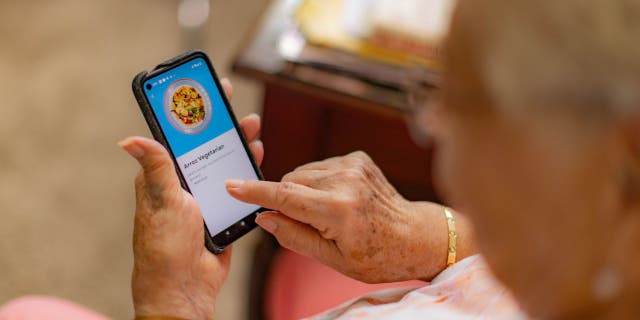 Once the drone has your order, it will deliver it directly to your location within minutes, flying around 100 to 130 feet above the ground at 65 miles per hour. It safely lowers the package to the ground, and the customer can retrieve it as soon as it is dropped. 
What are the benefits of drone delivery service? 
Some of the best benefits of drone delivery service are its efficiency, its financial perks, and its positive impact on the environment. Think about times when you need packages delivered from a company. It typically takes a few days to get to you, and if you need it faster, you'll usually have to pay a pricey fee. With Wing, however, you can get your packages quickly and not have to worry about the wait.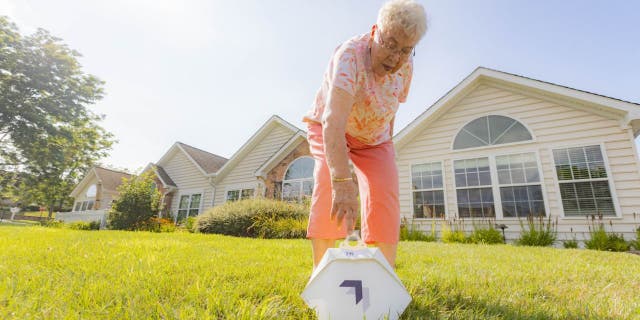 The ultimate solution for saving time and money on gas  
When it comes to finances, drone delivery customers can save on gas money. As a timesaver, drone delivery could save the average consumer up to 56 hours per year by reducing unnecessary errands and trips.  It can help businesses grow as well, generating up to $284,000 per year in new annual sales according to analysis. Plus, it may help prevent car accidents and reduce vehicle traffic. 
The eco-friendly solution for delivery  
With the environment, Wing's drones are about 10 times as efficient as some of the most efficient electric vehicles on the road today and 50 times more efficient than an average gasoline-powered vehicle.   The drones can reduce up to 113,900 tons of Co2 per year.  That's equivalent to planting 46,000 acres of new forests. 
MORE: HOW TO RECEIVE MEDICINE AND FOOD IN THE FUTURE COULD INVOLVE ZIPLINE DRONE TECHNOLOGY 
What made Paul and Susie Sensmeier fall in love with drones? 
Hearing about real experiences from Paul and Susie Sensmeier gets me curious to try a drone delivery mission soon.  They've been using Wing drone delivery for nearly 4 years now.  Susie says they were one of the first people to sign up and never looked back. 
There aren't many exciting new things that happen that don't take away from your health when you're in your eighties. And the drone is one of the funnest things that ever happened to us." – Susie Sensmeier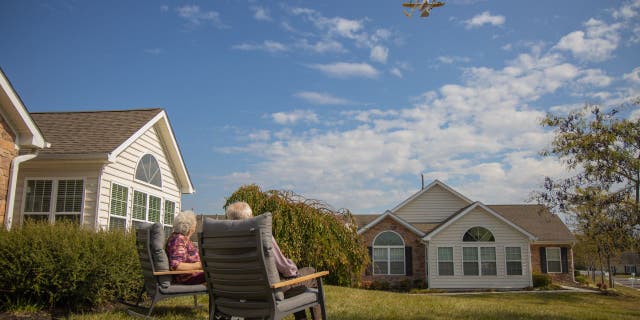 How Wing became essential for the Sensmeier's during the pandemic  
As time went by, the Sensmeier's found that drone delivery became more of a necessity than a novelty. When the COVID-19 pandemic hit, the couple was able to use Wing to get essentials like hot food, complete meals, cold beverages, and even over-the-counter medications dropped to their doorstep. 
MORE: SHUT THAT DRONE UP: WHY THE WORLD IS ABOUT TO GET A LOT LOUDER  
How accurate are drone deliveries 
By the time the lockdowns lifted, they enjoyed the delivery service so much that they just kept using it, especially since Susie doesn't drive due to an eye condition.  At the time that I interviewed them, the couple had placed well over 1,200 orders via drone delivery, which Wing says is a world record.   
Some other stats offered is that their average order costs $11.08, and the average time delivery for their packages is 12 mins and 14 secs.  
And if you're still not convinced that the drone delivery could be accurate, Susie says, "You could put a quarter there, and it would land on it every time. Even in the wind, it's pretty close." 
What advice do the Sensmeiers have for drone delivery skeptics? 
I asked Paul and Susie what they would tell people who are still worried about trying drone delivery, and their answer was simple,"Try it. It's marvelous." 
I have to admit that Paul and Susie have given me hope for the future of drone delivery.  
They're both excited to be able to help people further understand how drone delivery can be life changing.   Paul says, "I think there's a lot of room for this sort of a delivery service in the future, and I think it'll be very efficient."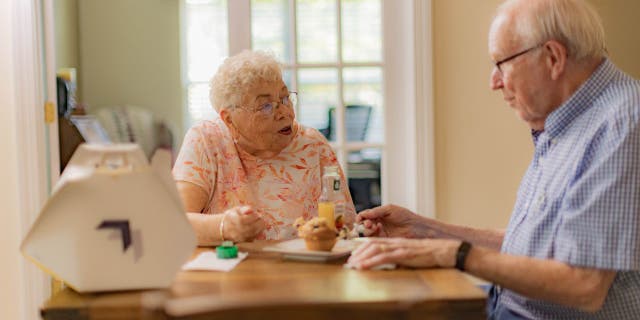 MORE: REVOLUTIONARY DELIVERY DRONE COULD BE DROPPING A PACKAGE AT YOUR HOME 
Where does Wing Delivery deliver today?  
Wing has sites here in the U.S. in Christiansburg, Virginia, Frisco, Texas & Little Elm, Texas. Internationally they have locations in Australia, Finland, and Ireland. They deliver to homes within roughly 6 miles of one of their sites. Wing's goal is to expand all over the world and is currently working with regulators to make that possible. 
What about your privacy?  
Wing's drones are custom-built for delivery and not taking pictures. The drones have cameras onboard, but primarily for navigation. They capture low-resolution black-and-white still images.  
Since these drones hover at 150 feet off the ground during delivery, people are not easily recognizable on the ground by their cameras.  Also, there is no live feed of images to anyone, including the pilots. 
Furthermore, the drones navigate to pre-programmed delivery spots. When a user enters their address, the system checks to see how many delivery spots are available there. Then, the customer selects the spot they want to use, and the drone navigates to those GPS coordinates. 
As for concerns over consumer data, Wing has a privacy policy in place, and that information is handled carefully. Yes, you are asked to provide your address and credit card information just like any other delivery service. As you can see, Wing takes privacy very seriously. 
Kurt's key takeaways 
Although there may be some kinks to work out, knowing that this type of delivery is fast, accurate and affordable makes me believe we're headed in the right direction.   
As it gains popularity, we'll need to address the obvious congestion in the skies from competing drone companies zigzagging goods and services to eager Americans. 
Ready to order by drone delivery yet or feel like staying grounded in the old way of shopping? Let us know by writing us at Cyberguy.com/Contact 
CLICK HERE TO GET THE FOX NEWS APP
For more of my security alerts, subscribe to my free CyberGuy Report Newsletter by heading to Cyberguy.com/Newsletter 
Copyright 2023 CyberGuy.com.  All rights reserved.