JPMorgan predicts the ending of the recent crypto market selloff, forecasting limited downside and potential stability in the near term.
The latest downturn in the cryptocurrency markets seems to be approaching a conclusion, according to a new analysis by JPMorgan Chase & Co.
The firm argues that long-position liquidations in the crypto world are mostly resolved and that further sharp declines are unlikely. While still echoing, the crypto markets' recent behavior suggests that the market's unwinding phase is near its end.
Open interest in the futures contracts of Bitcoin (BTC) traded on the Chicago Mercantile Exchange (CME) indicates that the market's correction is nearly over. Open interest, a measure representing the number of unsettled and active futures contracts, typically shows when a price trend might weaken. Analysts, including Nikolaos Panigirtzoglou, have noted that the decrease in open interest signals the potential end of the recent selloff.
As a result of this analysis, the JPMorgan team sees "limited downside for crypto markets over the near term."
Over the last two weeks, Bitcoin has seen a near 12% drop after maintaining a steady trading pattern for around a month.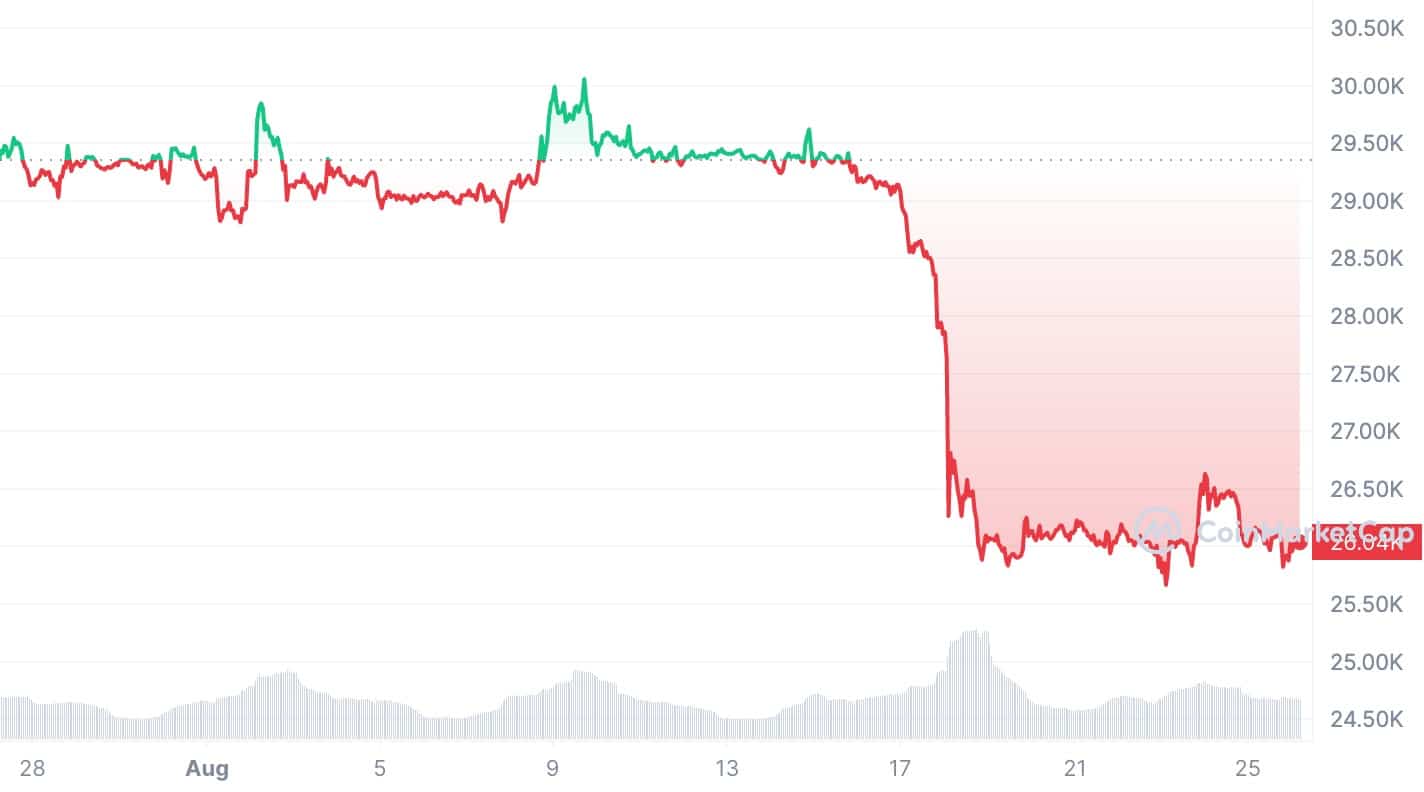 Earlier in the season, the crypto market was energized by several developments seen as favorable, such as a series of applications for the first US exchange-traded funds (ETFs) linked to Bitcoin's spot price. BlackRock Inc. led this charge.
Moreover, a court decision favoring Ripple Labs in its ongoing legal battle with the Securities and Exchange Commission (SEC) encouraged the broader market.
However, some of this initial excitement has begun to wane. Traders now anticipate decisions on spot Bitcoin ETF approvals and the SEC's appeal against the favorable court ruling for Ripple. The outcome, not expected until next year, has created a "new round of legal uncertainty," causing markets to be highly reactive to legal and regulatory news.
Interestingly, the report also cited additional catalysts for the market correction. The news that Elon Musk's SpaceX wrote off some of its Bitcoin holdings in the last quarter and concerns about growth in China also played a part in the recent crypto market correction.
Broader market conditions
This pullback wasn't isolated to cryptocurrencies. It was partly a reflection of a more extensive correction in risk assets such as equities, driven by "frothy positioning in tech, higher U.S. real yields," according to the research note.
Last Friday, risk assets experienced further turbulence after Federal Reserve Chairman Jerome Powell indicated readiness to raise interest rates further if necessary, intending to maintain high borrowing costs until inflation convincingly approaches the target set by policymakers.
Overall, the next few months will likely be critical for the crypto market and will provide further insight into these dynamics.