Amid executive departures and trading suspensions, Binance faces liquidity concerns as whale activity reveals a complex pattern.
Binance, the world's leading crypto exchange, remains under scrutiny while the community maintains a cautious stance concerning its general liquidity.
In the past week, several high-level executives from the exchange's APAC and Eastern Europe divisions have resigned.
Moreover, Binance has temporarily suspended trading of multiple altcoins, including the BUSD stablecoin, in response to mounting regulatory pressure.
As these issues converge, whales appear to be changing tact, shuffling coins around.
Data from crypto analysis platform, Lookonchain, reveals that a whale transferred $4 million worth of Synthetix (SNX) on Sep. 6, a day following the 2% rise of SNX prices.
Meanwhile, another whale withdrew $16 million in Ethereum (ETH) after initially depositing $36 million.
On Sep. 6, another user withdrew $12.3 million worth of Maker (MKR).
However, while there has been notable withdrawals, some whales continue to make deposits.
For instance, an ETH whale deposited $36 million in Tether (USDT) on Sep.5 only to withdraw $15.9 million worth of ETH an hour later.
Parallel data from Messari confirms these massive withdrawal.
The analytics platform shows that there has been a net outflow of $27.4 million in Bitcoin (BTC) on Binance in the past 24 hours.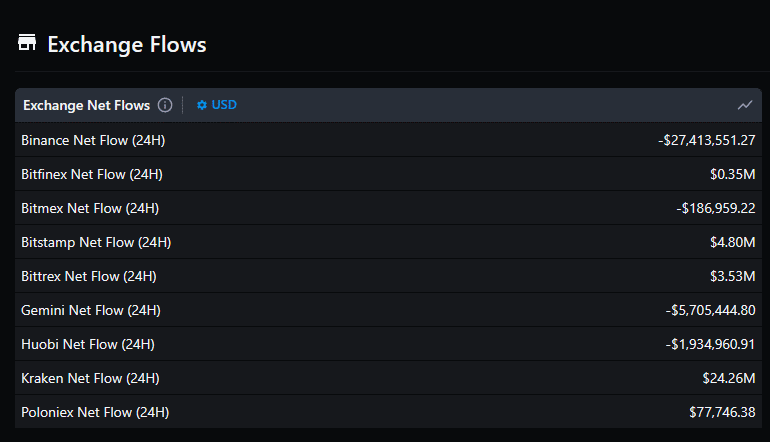 Even so, there are other emerging concerns.
On Sep. 6, there is a withdrawal glitch relating to USDC affecting those moving the stablecoin from Optimism, an Ethereum layer- platform.
Despite the growing concerns and increased scrutiny in the market, Binance CEO Changpeng Zhao (CZ) dismisses recent fears. He explains that the departure of executives is simply for better roles outside the company.