Did you ever fantasize about owning a jetpack when you were a kid? If so, your dream may finally come true – with an aquatic twist. 
GET KURT'S FREE CYBERGUY NEWSLETTER WITH SECURITY ALERTS, QUICK TIPS, TECH REVIEWS AND EASY HOW-TO'S – SIGN UP HERE FREE
It's time to turn those dreams of soaring the skies into zipping through the blue oceans because of a futuristic underwater jetpack here to change your underwater exploration game.
We've seen underwater propulsion systems, but none quite like the CudaJet. The typical designs were strapped to the user's arms or legs. Still, this innovative creation from Archie O'Brien, a British underwater enthusiast and Loughborough Design School graduate, is a true backpack-style underwater jetpack. 
It promises to give you the feeling of being a seafaring superhero but without the burden of heavy equipment.
HOW YOUR PASSWORDS CAN BE STOLEN BY AI LISTENING TO YOUR KEYSTROKES
Powerful, compact, and user-friendly design
At first glance, the CudaJet looks like a chunky backpack, but don't let its appearance fool you. This compact engineering marvel, weighing a manageable 29 lbs., packs a punch. 
Equipped with a dual-jet-drive, a padded neoprene harness that's worn on the torso, and a hardwired handheld trigger-style remote, it's designed to be lighter and faster than its predecessors. A single 75-minute charge gives you up to 40 minutes of underwater freedom.
MEET THE AUTONOMOUS MEGA-MOWER ROBOT PUTTING AN END TO GRASS CUTTING AS WE KNOW IT
Dive deeper, swim faster
It's not just about the tech but also the performance. The CudaJet is capable of descending to a maximum depth of 131 ft while delivering a substantial 88 lbs. of thrust. 
This means you can reach a top speed of 10 ft per second, or around 7 mph. For comparison, Olympic swimmer Michael Phelps swam at a record speed of 6 mph.
THEY'RE IN THEIR 80S AND ADDICTED TO DRONE DELIVERIES
Set for U.S. shores and beyond
Now, if you're worried about the fitting, fret not. The CudaJet's harness, much like a traditional personal flotation vest, comes in small, medium, and large sizes to suit various body types. 
Plus, it's easy to slip on, making the underwater jetpack less cumbersome and awkward than other sea scooters or underwater toys. 
MORE: WHEN JET SKI MEETS SPORTS CAR YOU GET THIS ULTIMATE WATERCRAFT
Moreover, Aqua Flight, the Fort Lauderdale-based retailer, has exclusive distribution rights in the U.S. Their CEO, Ashton Lauritzen, has expressed his excitement, stating, 
We are super thrilled to be the first and only company to bring this product to life here in Florida." 
MORE: CREEPY CHINESE DRONE SWIMS UNDERWATER AND FLIES THROUGH AIR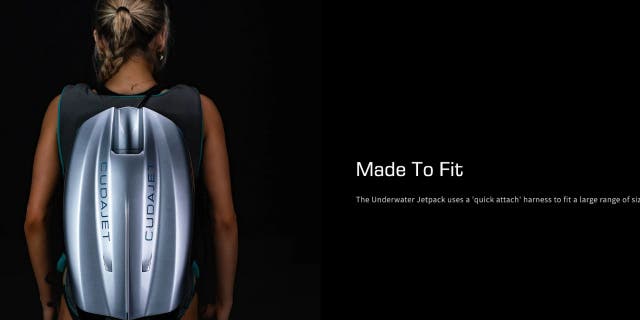 Underwater Jetpack pricing
Of course, to be a seafaring superhero, you'll need a superhero-sized wallet. A complete CudaJet package starts at about $18,021. But think of the adventure. You could explore coral reefs, dive with dolphins, or play underwater chases with friends. You would have the coolest backpack on the planet.
With this underwater jetpack, the ocean becomes your playground. Suppose you're a yacht owner looking for the next thrilling water toy or someone who loves underwater exploration. In that case, the CudaJet may be the ticket to your next big adventure. 
MORE: BOATS ARE LEARNING TO FLY ABOVE THE WATER – HERE'S HOW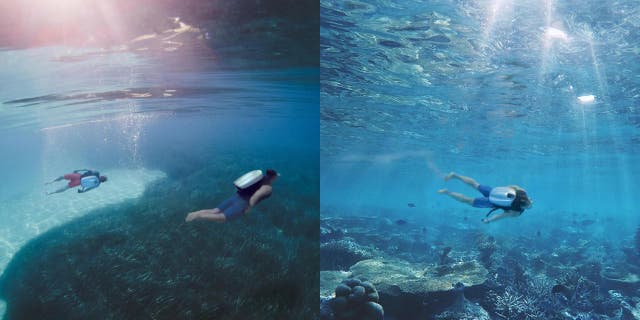 Kurt's key takeaways 
The CudaJet signifies a new wave in dual-power underwater exploration. It combines the excitement of speed, the intrigue of the deep, and the thrill of uncharted territory – all wrapped up in a backpack-sized underwater jetpack.
With this technology at our fingertips, the ocean's depths are no longer out of reach. However, as with all innovations, it's up to each adventurous spirit to seize the opportunity to explore.
Here's a question for all the would-be underwater explorers: If the CudaJet was yours to command today, where would you choose to dive first? The vibrant ecosystem of the Great Barrier Reef? The mystery-filled ruins of an ancient city? Or perhaps a peaceful glide through the serene waters of a familiar local lake Let us know by writing us at Cyberguy.com/Contact
CLICK HERE TO GET THE FOX NEWS APP
For more of my security alerts, subscribe to my free CyberGuy Report Newsletter by heading to Cyberguy.com/Newsletter
Copyright 2023 CyberGuy.com.  All rights reserved.