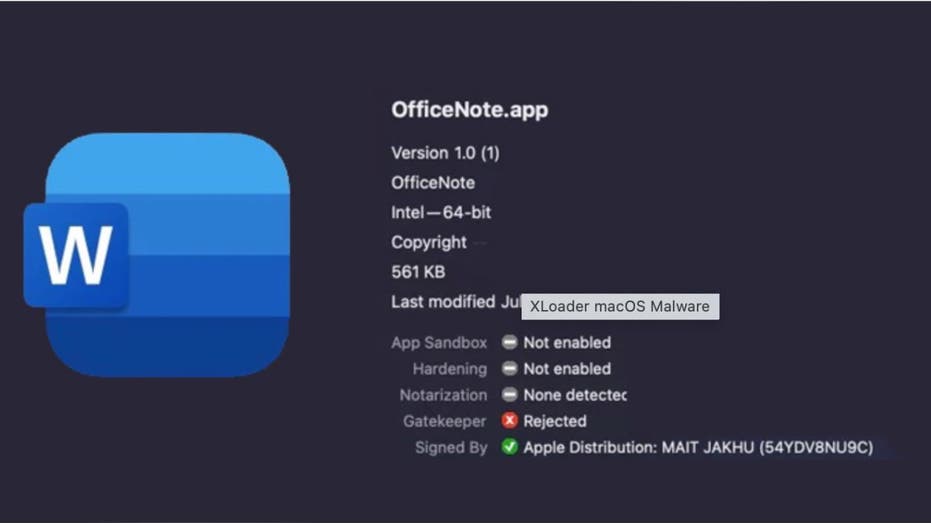 You might think that your Mac is safe from viruses and malware but think again. There's a new threat in town, and it's after your precious data. Meet, Xloader, a sneaky malware that used to target Windows PCs but has now been programmed to infect Macs as well. Xloader can disguise itself as a legitimate app and steal passwords, screenshots and clipboard content from infected machines.
CLICK TO GET KURT'S FREE CYBERGUY NEWSLETTER WITH SECURITY ALERTS, QUICK TIPS, TECH REVIEWS AND EASY HOW-TO'S TO MAKE YOU SMARTER
Beware of OfficeNote.app
Hackers are getting smarter and sneakier every day, and they have a new trick up their sleeve. They have repackaged the Xloader malware into a fake app called OfficeNote, which looks like a legitimate Microsoft product.
Don't be fooled by its innocent appearance, though. This app is actually a Trojan horse that will unleash the Xloader malware right onto your Mac. And the worst part is, your Mac won't even notice it.
XProject, your Mac's built-in malware scanner, is no match for this cunning invader. It will let the app run on your device without so much as a warning. How scary is that?
HOW TO MAKE YOUR DEVICES IMPOSSIBLE TO SNOOP ON WITH A PRIVACY SCREEN
What happens if you install the malware?
If you were to download the OfficeNote app, you would be greeted with an error message saying the program can't be installed. In reality, though, this means that XLoader was installed successfully and will remain undetected.
Once installed, the malware works to steal your passwords and whatever sensitive data it can gather from your desktop. XLoader will also steal cookies and data from your Google Chrome and Mozilla Firefox browsers but will avoid Safari.
MORE: DON'T FALL FOR THESE FAKE, MALWARE-PRODUCING CHATGPT SITES AND APPS 
How to uninstall the OfficeNote.app from your Mac 
1) Open the applications folder and drag the Office Note icon to the Trash.
2) Then empty your trash by clicking the Trash can icon in your menu bar at the bottom of your screen. Then click empty in the upper right-hand of the screen.
3) Then you need to scan your Mac for any traces of Xloader or other malware that may have been installed by it. To do this, you can use reliable antivirus software . This software can detect and remove Xloader and other threats from your system. 
See my expert review of the best antivirus protection for your Windows, Mac, Android & iOS devices by heading to Cyberguy.com/LockUpYourTech.
4) Next, you need to change your passwords that may have been compromised by Xloader. To do this, you can use a password manager to generate and store strong and unique passwords for your online accounts. 
5) You should also enable two-factor authentication whenever possible to add an extra layer of security. 
How do you stay safe moving forward?
While the steps above will help those of you who have already been impacted by malware, the following precautions can help you avoid a situation like that in the first place.
Only download from the official Mac App Store
I recommended downloading applications that are on the official Mac app store. When downloading apps, programs or other software from the internet, it can be difficult to differentiate between a completely legit service and a scam. On the other hand, apps have to be verified to be featured on the app store.
ZOOM'S REVERSAL AFTER BACKLASH OVER AI FIASCO
Use identity theft protection
If you were to accidentally install the fake OfficeNote app or any other malware, it could collect your personal information and data and send it to cybercriminals, who can use it to steal your identity and money. That's why I recommend you use an Identity Theft protection company that can monitor personal information like your home title, Social Security number (SSN), phone number and email address and alert you if it is being sold on the dark web or being used to open an account. They can also assist you in freezing your bank and credit card accounts to prevent further unauthorized use by criminals. 
See my tips and best picks on how to protect yourself from identity theft by heading to Cyberguy.com/IdentityTheft.
Have good antivirus software on all your devices
The best way to protect yourself from having your data breached is to have antivirus protection installed on all your devices. Having good antivirus software actively running on your devices will alert you of any malware in your system, warn you against clicking on any malicious links in phishing emails, and ultimately protect you from being hacked.
See my expert review of the best antivirus protection for your Windows, Mac, Android & iOS devices.  
Have strong passwords
Using the same password across multiple platforms will always make you more vulnerable because if one account gets hacked, they all get hacked. Make sure to use a password manager to keep track of all your passwords. Instead of relying on a single password, which, if stolen, can expose you. 
HOW TO STOP SOMEONE FROM TRACKING YOU ON YOUR PHONE
Use two-factor authentication
Implementing two-factor authentication is just an extra shield that will prevent a hacker from getting into your accounts.
Kurt's Key Takeaways
With the constant improvements in tech and programming, it is not surprising that hackers would also make progress with their products. Unfortunately, progress for them means danger for us, and this new application should be another wake-up call: we must start taking cybersecurity seriously. 
With the amount of information and crucial data we pour into our devices, we should be putting way more effort into protecting them. Learning about potential threats is a great first step, but it is also important to preemptively protect yourself with anti-virus applications and smart browsing.
How do you feel about having to always be on high alert about your security and privacy and your personal data on your Mac? Does it stress you out that you always have to be thinking about it when you are on your devices? Let us know by writing us at Cyberguy.com/Contact.
For more of my tech tips & security alerts, subscribe to my free CyberGuy Report Newsletter by heading to Cyberguy.com/Newsletter.
Copyright 2023 CyberGuy.com. All rights reserved.