Fashion and hip-hop are intrinsically linked, and participate in a feedback loop with one another—rappers influence fashion brands with their personal style often inspired by subcultures and underground movements; and labels count on hip-hop musicians to market their wears in songs. Of course, it wasn't always this way—the fashion industry didn't welcome rappers with open arms at first. But once high-end labels realized these fashion vanguards were blazing trails that ended up creating pop culture, they got on board. For 50 years, hip-hop artists have been turning out truly iconic looks on red carpets, in magazines, and in their everyday lives. Below, we've compiled 42 of the most unforgettable fashion moments ever seen in rap. Which ones did we miss?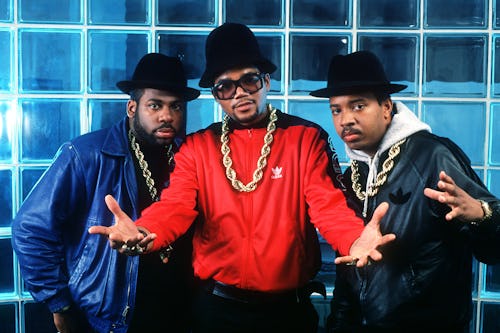 Run-DMC made hip-hop and fashion history when they appeared in the "My Adidas" video wearing lace-less shell toes in 1986. From then on, Joseph "Run" Simmons, Darry "DMC" McDaniels and DJ Jason "Jam Master Jay" cultivated a signature look that called for black fedoras, thick dookie chains, and head-to-toe Adidas gear.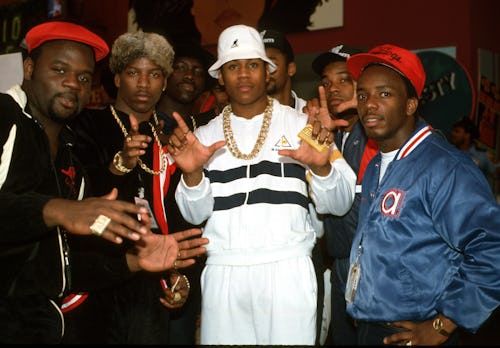 LL Cool J—shown here in 1987 with members of production group L.A. Posse Darryl "Big Dad" Pierce, Dwayne "Muffla" Simon, Bobby "Bobcat" Ervin and DJ Pooh—made the Kangol hat and sweatsuit look his own.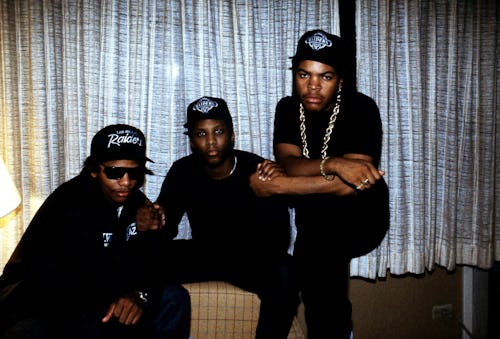 Meanwhile, on the West Coast, N.W.A—Eazy-E (Eric Lynn Wright), MC Ren (Lorenzo Jerald Patterson) and Ice Cube (O'Shea Jackson)—presented an anti-establishment worldview with songs like "Fuck Tha Police" and "Appetite for Destruction." Their signature style embodied this ethos as well: all-black looks, dark sunglasses, and Los Angeles Raiders caps.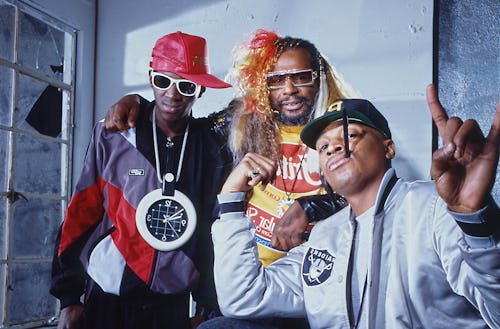 Flavor Flav, George Clinton, and Chuck D: three true fashion vanguards who also happen to be collaborators on the legendary group Public Enemy. Flavor Flav's clock chain would become his signature, appearing around his neck on countless red carpets and his VH1 reality show Flavor of Love.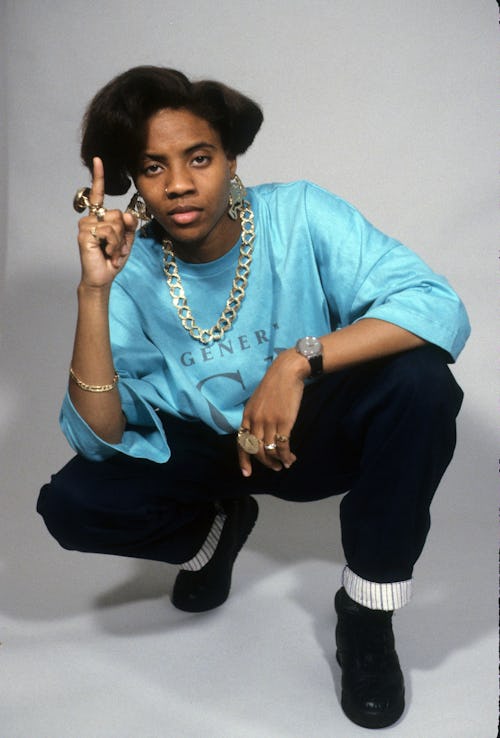 MC Lyte, shown here in 1989, put her own tomboy spin on hip-hop style, matching flashy gold jewelry with laid-back oversize tees, cuffed slacks, and sneakers.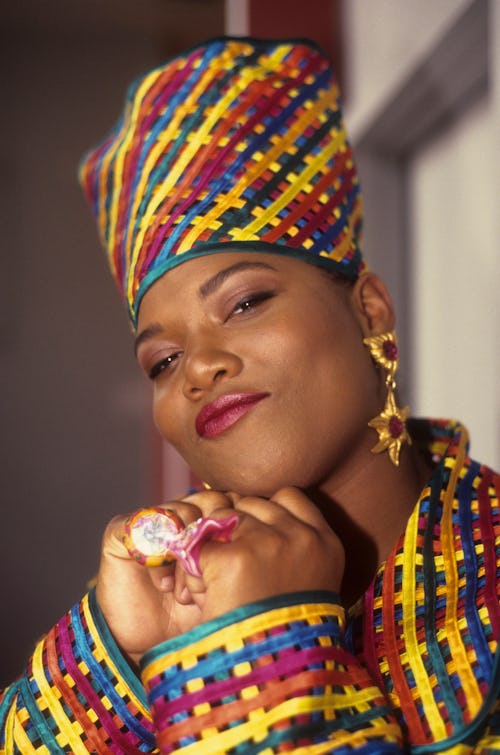 Queen Latifah, on the other hand, embraced a royal approach to hip-hop fashion, inspired by African hues and styles and the fact that, the way she sees it, all Black women are queens. Photographed here backstage during a video shoot for her song "Fly Girl" in 1991, Latifah adds colorful gemstones to her gold jewelry, coordinating her signature kufi with her makeup.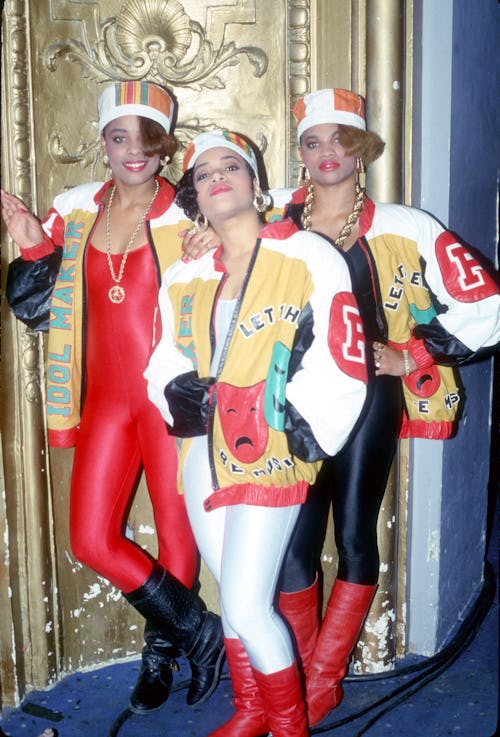 Another take on the kufi: Salt-N-Pepa's truly unforgettable spandex getups from 1988, which called for gold chains and oversize leather jackets. Beyoncé, Tina Knowles, and Blue Ivy recreated this trio of looks for Halloween in 2020.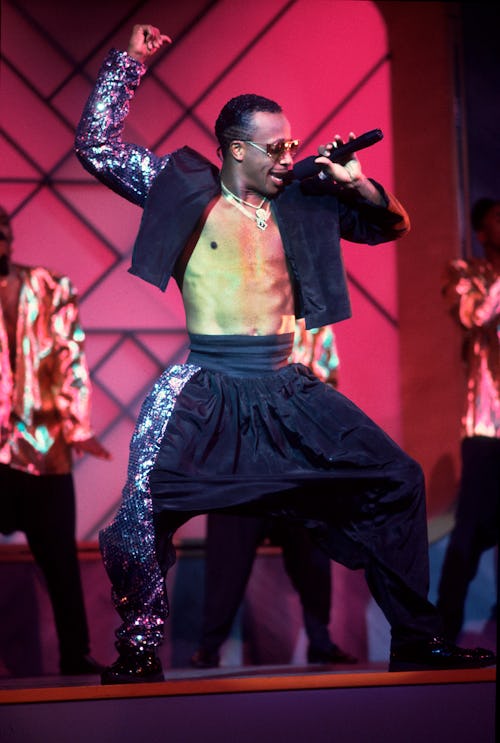 Appealing to a more mainstream audience with dance-friendly tracks like "Can't Touch This," MC Hammer was also known for his drop-crotch harem pants, which he wore with plenty of paillettes during this 1990 performance on the Oprah Winfrey show.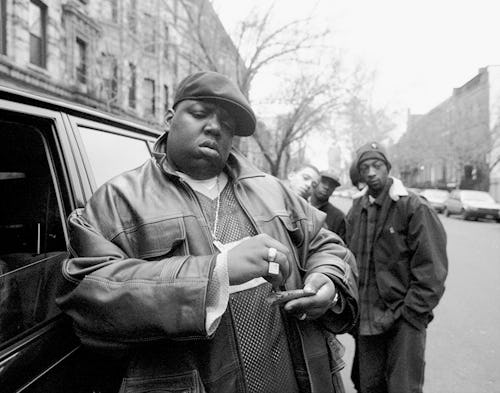 The Notorious B.I.G., shown here in Brooklyn in 1995, rocked newsboy caps and leather jackets.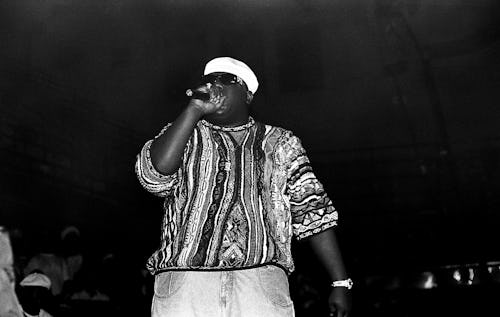 But he could just as frequently be seen in a Coogi sweater, and referenced the brand often in his lyrics ("However, livin' better now…").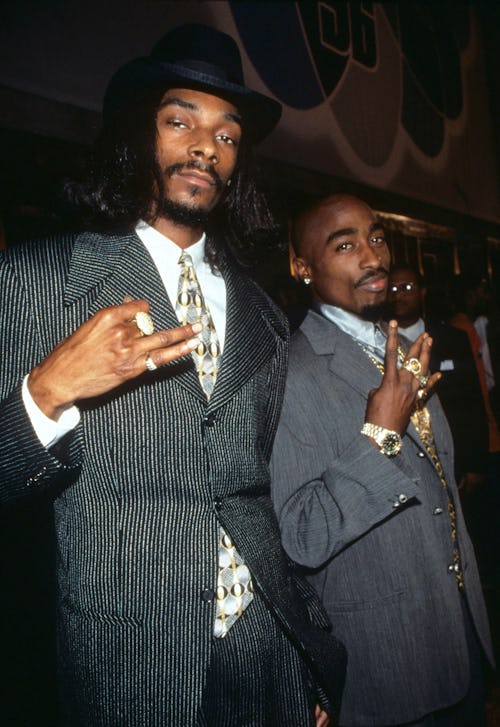 Snoop Dogg and Tupac Shakur took the 1996 MTV Video Music Awards by storm with bowler hats, Italian suits and ties, and plenty of gold jewelry.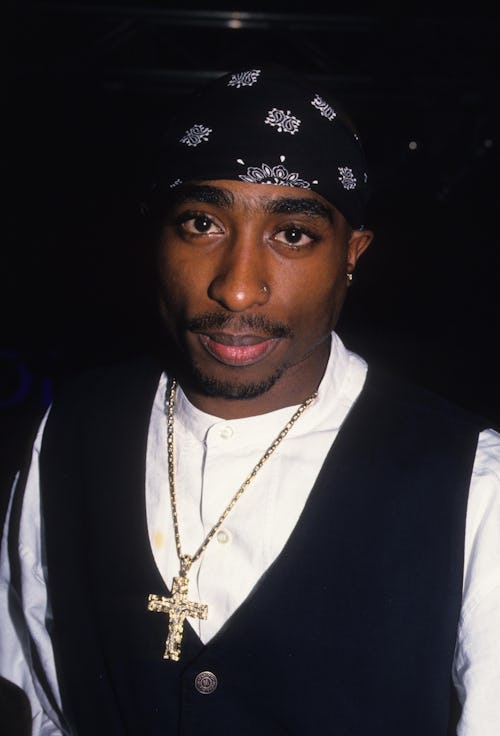 But Tupac was just as well-known for his affinity toward bandannas tied around his head paired with a vest and a Jesus piece.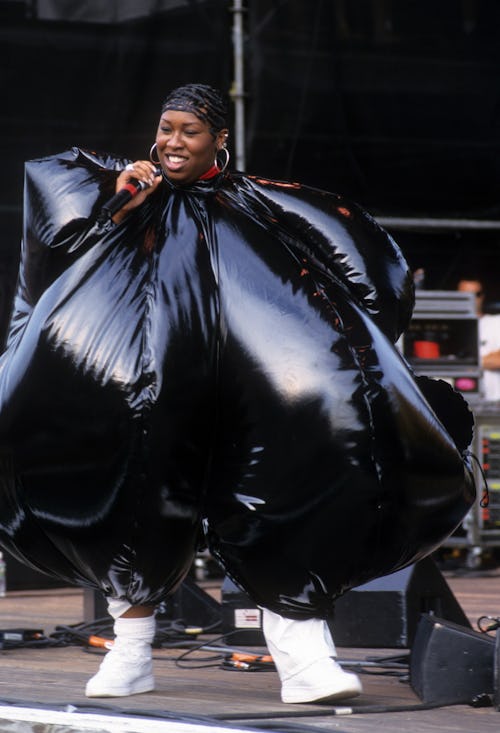 Missy Elliott made one of the most unforgettable music videos when she released "The Rain (Supa Dupa Fly) in 1997 wearing an enormous, black, PVC, blown-up suit with crown-like sunglasses. In addition to her finger wave pixie cut, it became a visual touchpoint for the artist—who donned the look for a performance at Lilith Fair in New York in 1998, shown here.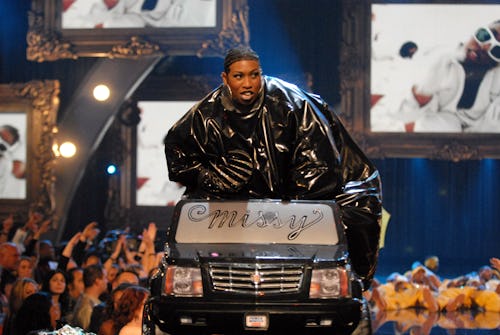 Missy put the suit back on in 2006 for the MTV VMAs during a tribute to Video Vanguard Award winner Hype Williams, who directed the video for "The Rain (Supa Dupa Fly)." On August 10, 2023, Missy tweeted some BTS about the look: "Fun fact, I had to go to a gas station in Brooklyn NY to get air in this blow-up suit," she said. "The suit blew up so big I couldn't fit in the car so I had to walk back to set down the street in this outfit in BROOKLYN."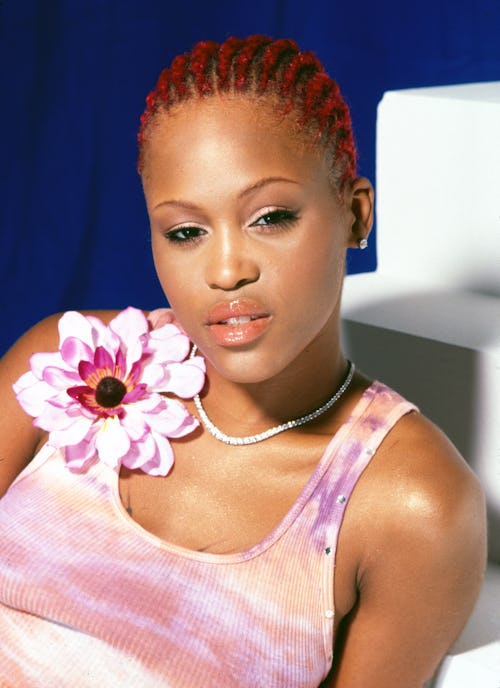 "Some of y'all ain't writin' well, too concerned with fashion," the rapper Eve spit on her track with Gwen Stefani, "Let Me Blow Ya Mind." But Eve was selling herself short there in our opinion—she had her own fabulous fashion sense that called for floral accents, lots of color, and fiery red hair.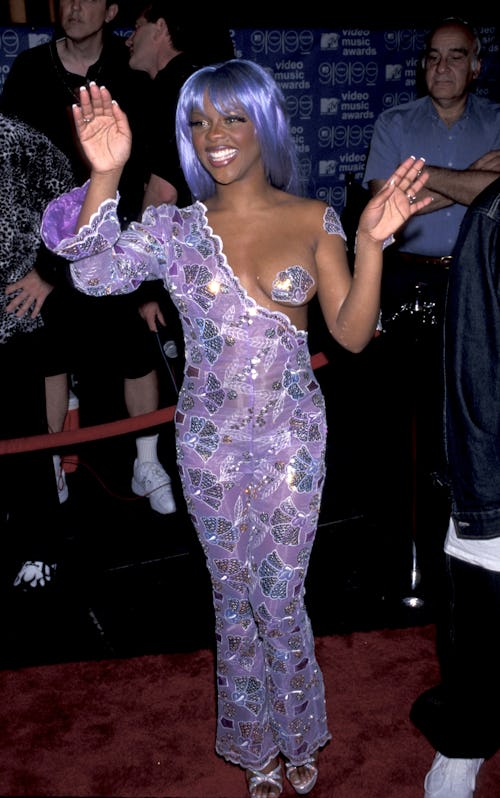 That "Let Me Blow Ya Mind" line, by the way, is rumored to be a diss toward Lil' Kim, the Queen Bee who had so many friends in fashion, she counted Marc Jacobs as a BFF. In 1999, she cemented her status as a style rule-breaker with this iconic look at the MTV Video Music Awards, styled and designed by Misa Hylton.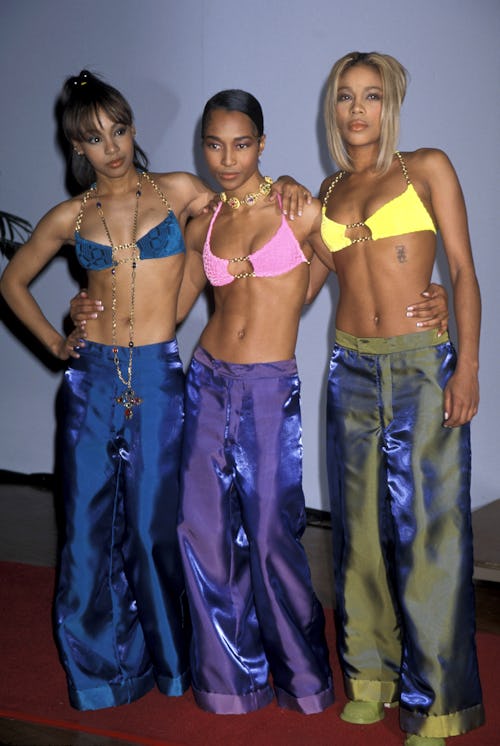 Who could forget TLC's hip-hop take on coordinated girl-group looks? Shown here at the 10th Annual Soul Train Music Awards, Lisa "Left Eye" Lopes, Chili, and T-Boz riffed on bikini tops and baggy pants to chic effect.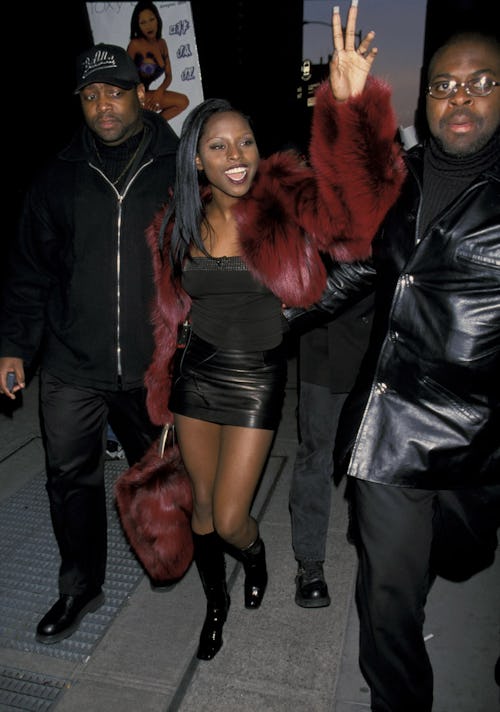 Foxy Brown may have just been attending a CD signing in New York City after releasing her album Chyna Doll, but this photo from 1999 also represents a truly memorable hip-hop fashion moment: leather boots with a matching leather skirt, and coordinated red fur cropped jacket and bag. Divine.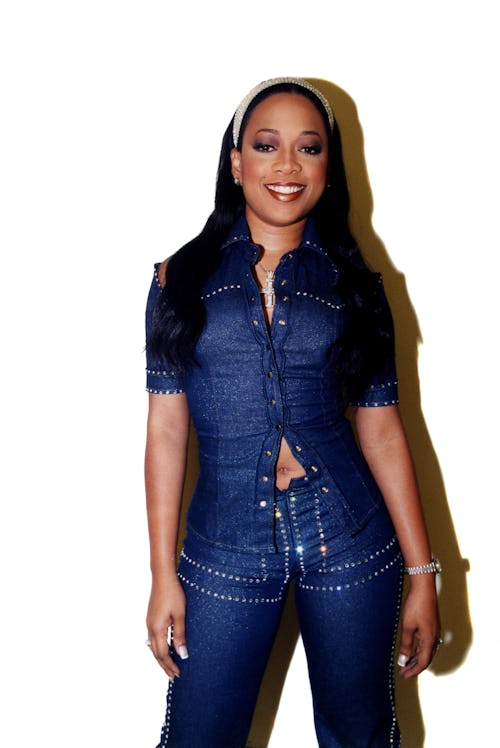 Okay, who remembers The Jenny Jones show?! The talk show played host to some of the most influential hip-hop acts of the day, including the rapper Trina, who appeared on the Jenny Jones stage back in 2001. For the occasion, she wore her take on a Canadian tuxedo, studded with rhinestones and a matching sparkling headband.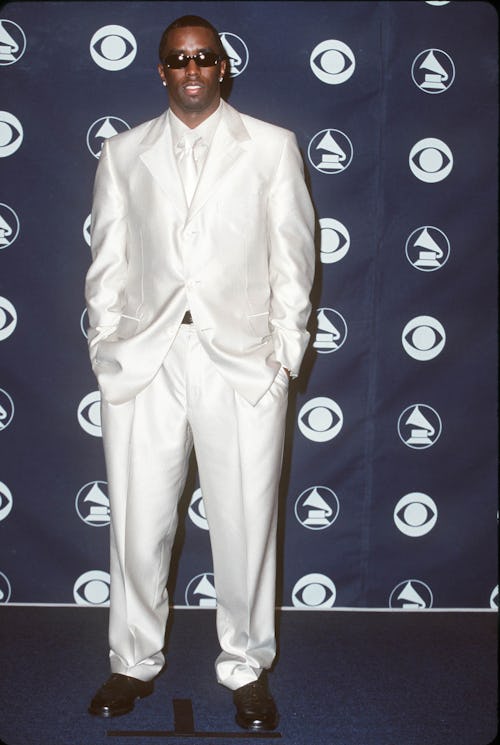 In the late '90s and early 2000s, rappers and basketball players took fashion cues from one another—as evidenced by Sean "Puffy" Combs's oversize, all-white suit at the 41st Annual Grammy Awards, which he paired with dark sunglasses. It was a look that could have easily been seen on Jason Kidd or Shaquille O'Neal.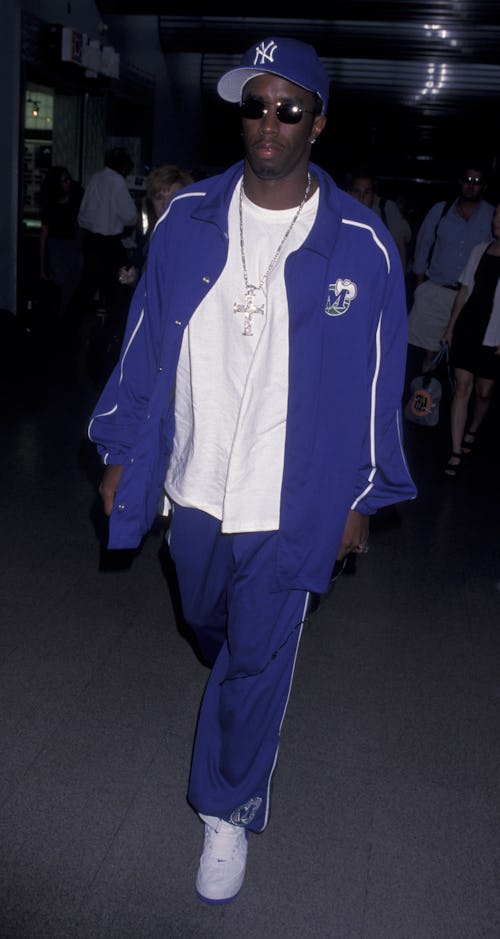 But more frequently, Diddy opted for a matching tracksuit and New York Yankees hat, as he wore in this 1999 photo snapped at LAX.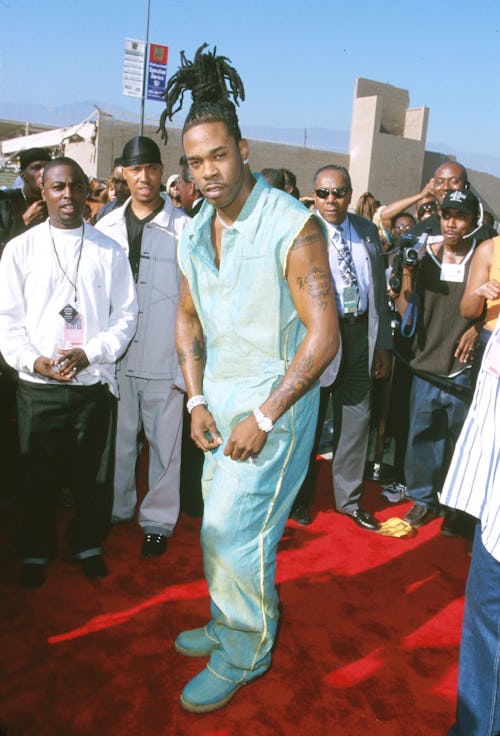 Busta Rhymes's locs were unmistakably chic decades before they appeared on runways. The artist fused a utilitarian and surreal approach to fashion with some seriously creative hairstyles. At the 2000 Source Awards in Pasadena, he paired a sky-blue jumpsuit with a twisted pony.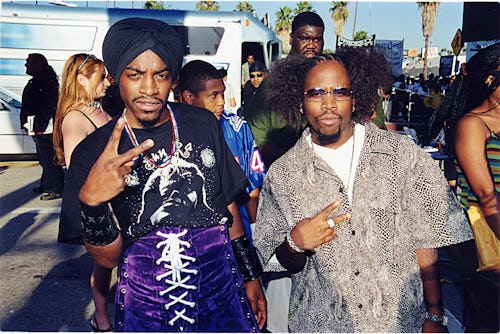 No hip-hop fashion conversation is complete without a mention of Outkast. The duo comprised of André 3000 and Big Boi came out of Atlanta with a bang in 1994, when they released the album Southernplayalisticadillacmuzik and introduced the world to their brand of underground, independent, marching-to-the-beat-of-their-own-drum hip-hop. The same idea applied to their sense of style—the two often attended awards shows (like this one, the 1999 Source Awards) wearing idiosyncratic looks inspired by thrift shop fashions.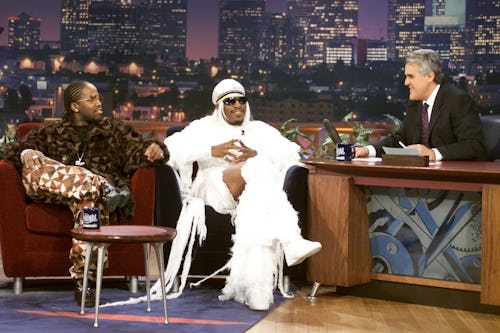 On The Tonight Show With Jay Leno in 2001.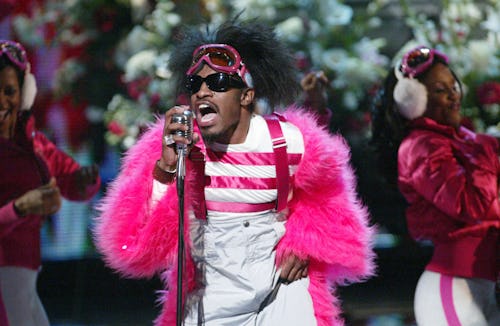 André 3000 performing "Hey Ya" at the VH1 Big in '03 show.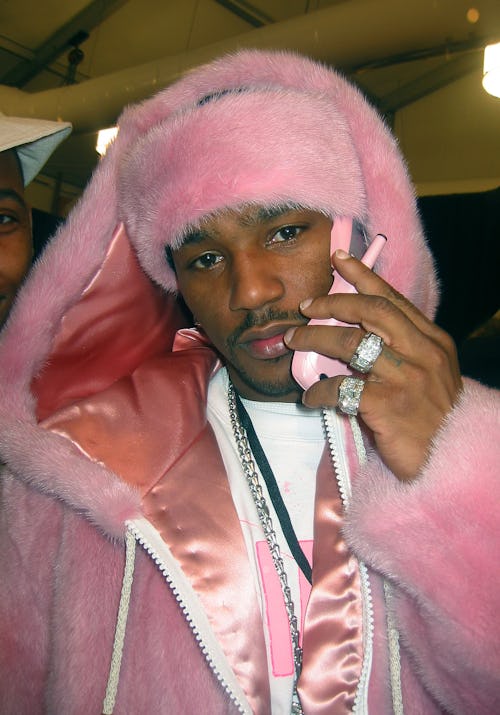 Never one to be outdone, Cam'ron showed up to Baby Phat's fall 2003 New York Fashion Week show at Bryant Park wearing a fuzzy pink jacket with matching headband and Baby Phat flip phone. It was a look that would inspire Halloween costumes for decades to come.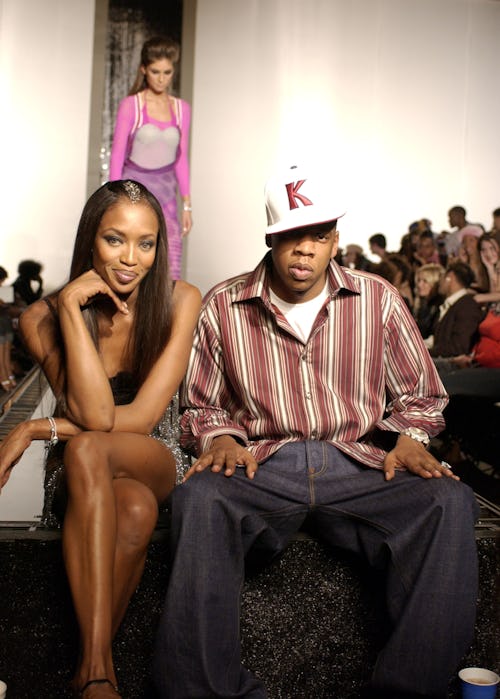 While his contemporaries were wearing throwback jerseys, Jay-Z entered his "grown man" era with the "Change Clothes" video, for which he staged a fake fashion show (even Naomi Campbell, shown here with Jay on set in Long Island City, walked the runway) and wore multiple printed button-downs.
When Kanye West first came onto the rap scene with The College Dropout, he opted for layered polos with popped collars and backpacks.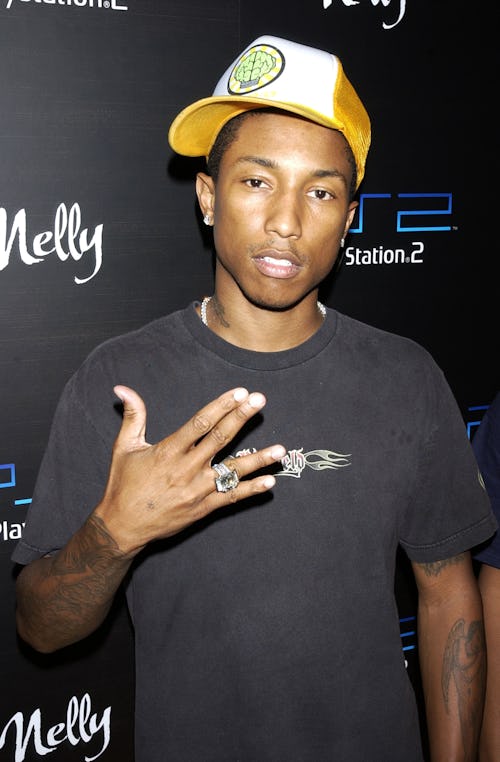 Pharrell introduced skate fashion to a wider audience in 2002, when he refused to wear anything other than an N.E.R.D. trucker hat.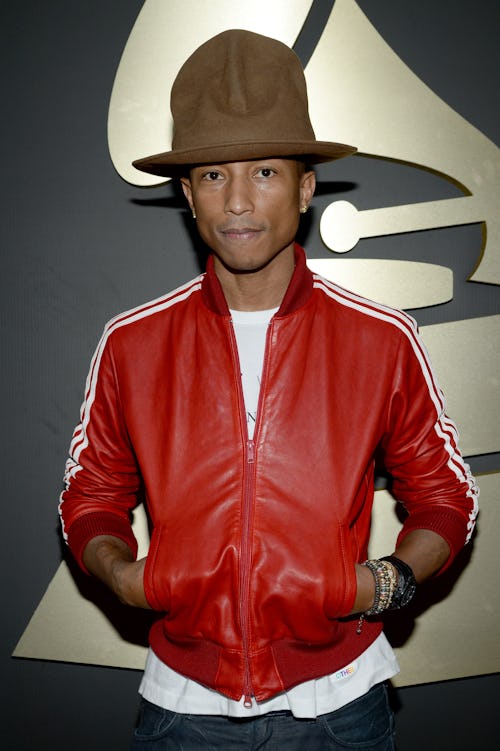 Later on in his career, Pharrell would come to be known for another hat altogether.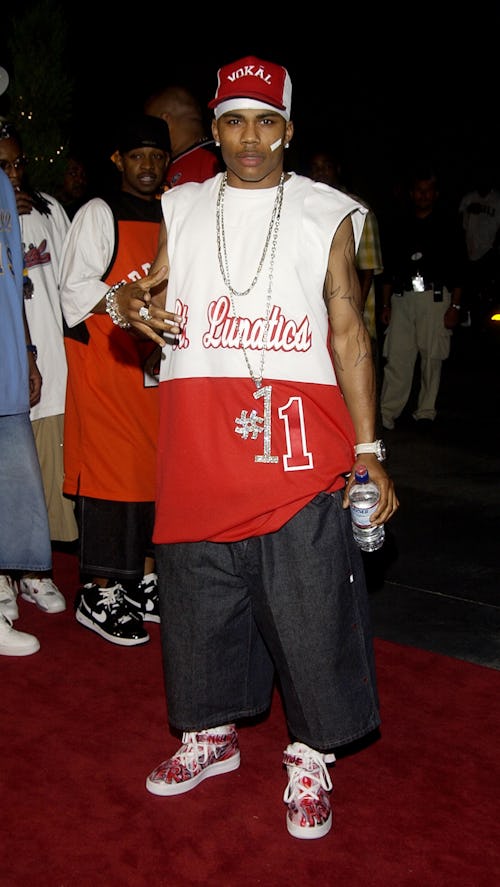 Nelly and his St. Lunatics rap crew donned throwbacks that often reached well below their knees, along with durags, superlong chains, and shorts that looked more like pants. And, of course, the "Dilemma" artist was never seen without his signature plaster under his left eye, a tribute to his incarcerated friend and fellow St. Lunatic, Lavell Webb, aka City Spud.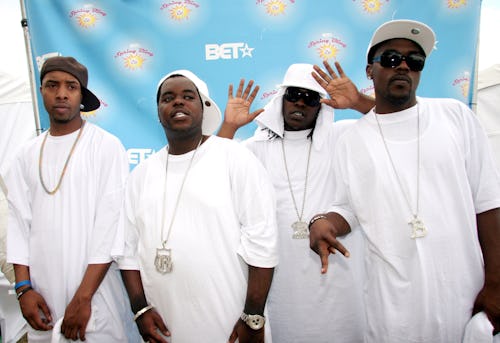 Dem Franchize Boyz made the white t-shirt a rap game staple when they released their track "White Tee" in 2004. Pictured here during BET's Spring Bling in 2006, the Atlanta group comprised of Parlae, Pimpin', Jizzal Man, and Buddie paid tribute to their hit with coordinated looks.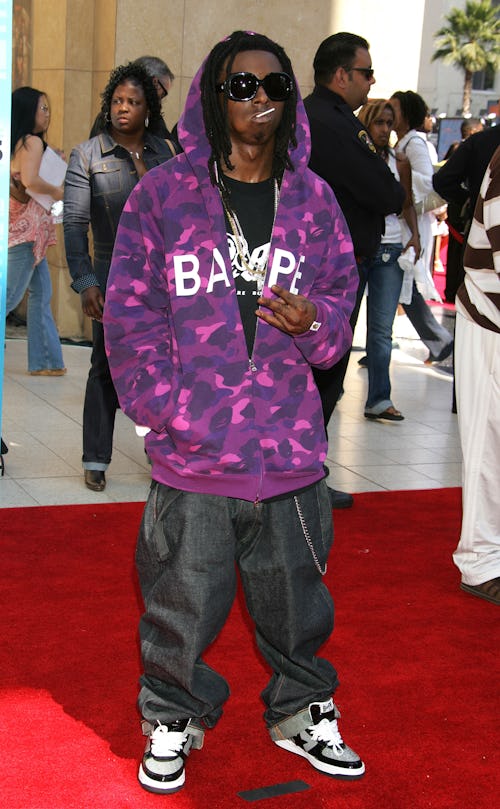 Ah, the chokehold Bape hoodies and Bapesta sneakers had on early 2000s rappers. Lil' Wayne, photographed here at the 2005 BET Awards, was a noted fan, and wore multiple Bapes at once in his "Hustler Muzik" video.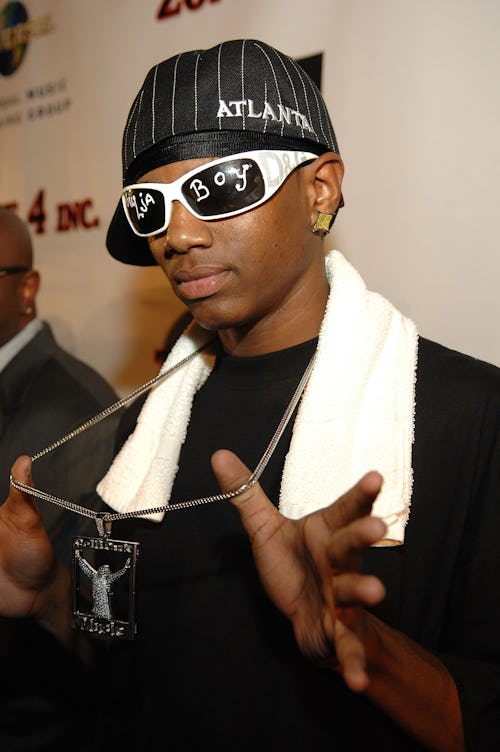 Soulja Boy painted his name on a pair of wraparound Dolce & Gabbana sunglasses and the rest was history. The glasses, which became a signature of the rapper's, also would go on to inspire Halloween costumes for years to come.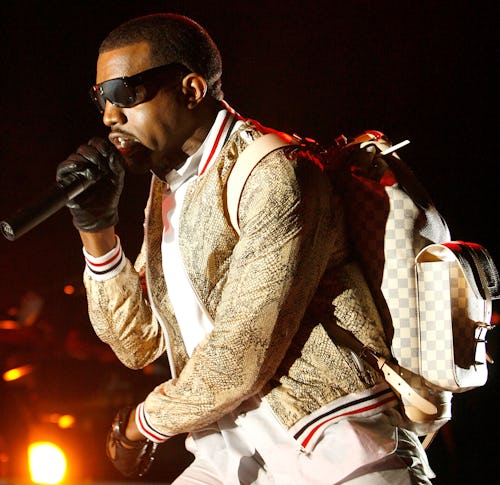 By 2008, Kanye West had upgraded his "backpack rap" look with a Louis Vuitton Damier-printed knapsack, along with a faux-snakeskin bomber jacket and black leather gloves.
Young Thug, a noted style renegade in the rap world, celebrated his 25th birthday in 2016 while wearing a lacy button-down blouse. Eleven days later, he would release the mixtape Jeffrey—which depicted the Atlanta native in a periwinkle dress designed by Alessandro Trincone.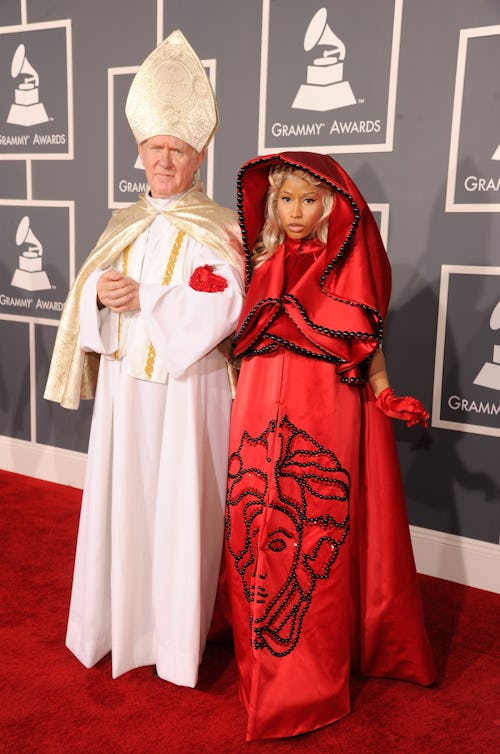 Nicki Minaj attended the 54th Grammy Awards in L.A. in 2012 wearing a fashionable version of a monk's robes designed by Versace—and brought a faux Pope to walk the red carpet with her.
Tyler, the Creator brought the fashion skaters wore on Fairfax Blvd. in L.A.—high socks, Vans, cut-off jeans, loose-fitting t-shirts—to the stage for the first half of his career.
A$AP Rocky, the Fashion Killa himself, embraced Gucci's Alessandro Michele era by adopting the babushka scarf tied around his head early on.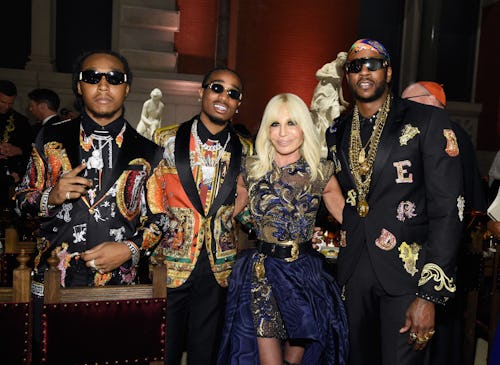 A meeting of the minds: in 2018, two out of three Migos members (the late Takeoff and Quavo) shook hands with Donatella Versace five years after releasing their runaway hit track "Versace." Shown here at the "Heavenly Bodies: Fashion and the Catholic Imagination" Met Gala with rapper 2 Chainz, the duo demonstrated their brand loyalty.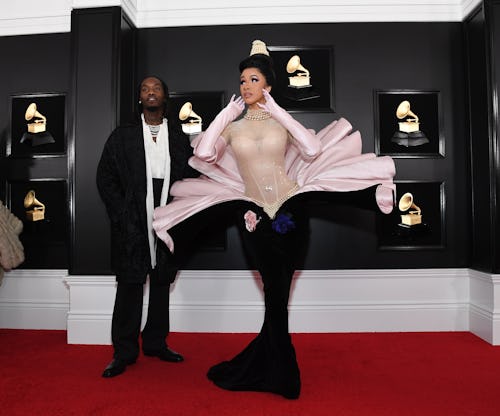 Cardi B was far and away the red carpet winner at the 2019 Grammy Awards, when she wore a vintage Thierry Mugler creation from the French label's 1995-96 couture collection. According to the star's stylist Kollin Carter, "There was one piece I was fighting for and harassing [Mugler] about constantly," he told WWD that year. The pink duchess satin and black velvet "Venus" dress and embellished bodysuit was unforgettable for Carter. "From the moment I saw it, I knew it was going to be a debatable moment, some people would love it and some people would hate it and that's everything we're about when it comes to fashion. It's meant to create a conversation."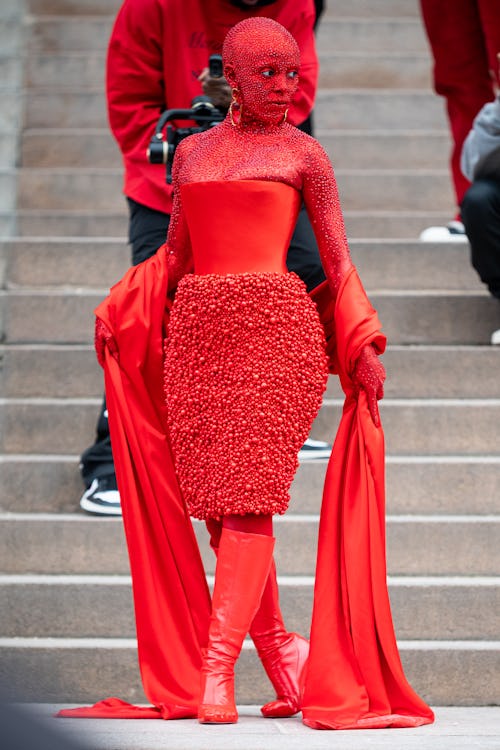 Who could forget Doja Cat's envelope-pushing fashion and beauty looks from Paris Fashion Week spring 2023? Here, she wears a head-to-toe Schiaparelli look—along with her entire body painted red and studded with red rhinestones.